An inheritance group references a group of content elements. It extends the functionality of the element group by passing on the content element configuration down the navigation tree.
OpenCms 8.5 Demo Content
This demo content shows how the features of OpenCms 8.5 are used to create great looking websites.
Most Recent News
Sep 24, 2012

The genus Acacia contains roughly 1300 species, most of them ...
Aug 2, 2012

No, some of them you can eat as well. ...
» See all news...
An element group (like this one) allows you to group multiple content elements together and share them on several pages.
Flowers not only look nice...
8/2/12 9:47 AM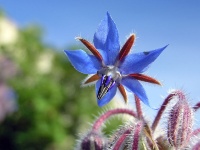 No, some of them you can eat as well.
One of the latest things in the haute cuisine is the use of edible flowers. They get used not only in vegane restaurants, but to add that certain something to one's dish.
Edible flowers may be preserved for future use using techniques such as drying, freezing or steeping in oil. They can be used in drinks, jellies, salads, soups, syrups and main dishes. Flower-flavoured oils and vinegars are made by steeping edible flower petals in these liquids. Candied flowers are crystallized using egg white and sugar (as a preservative).
Common edible flowers are daisies, violets and zucchini blossoms. And there are even some sorts of roses, that can be eaten.